CNC Horizontal Machining Center
Product Detail
Product Tags
Horizontal Machining Center
Machine Features
H series horizontal machining center adopts internationally advanced T-shaped overall bed structure, gantry column, hanging box structure, strong rigidity, good accuracy retention, suitable for precision cabinets.
For the processing of parts, multi-face milling, drilling, reaming, boring, tapping, etc. can be performed in one clamping at one time, machine are widely used in automobiles, rail transit, aerospace, valves, mining machinery, textile machinery, plastic machinery, ships, electric power and other fields..
Specification
Item

Unit

H63

H80

Worktable

Workbench size (length×width)

mm

630×700

800×800

Workbench indexing

°

1°×360

Countertop form

 

24×M16 Threaded hole

Maximum load of worktable

kg

950

1500

Maximum turning diameter of worktable

mm

Φ1100

Φ1600

Travel

Move the table left and right

(X axis)

mm

1050

1300

Headstock moves up and down

(Y axis)

mm

750

1000

Column moves forward and backward

(Z axis)

mm

900

1000

Distance from spindle center line to table surface

mm

120-870

120-1120

Distance from spindle end to center of worktable

mm

130-1030

200-1200

Spindle

Spindle taper hole number

 

IS050 7:24

Spindle speed

rpm

6000

Spindle motor power

Kw

15/18.5

Spindle output torque

Nm

144/236

 

Tool holder standard and model

 

MAS403/BT50

Feeding

Fast moving speed (X, Y, Z)

m/min

24

Cutting feed rate (X, Y, Z)

mm/min

1-20000

1-10000

Feed motor power (X, Y, Z, B)

kW

4.0/7.0/7.0/1.6

7.0/7.0/7.0

Feed motor output torque

Nm

X、Z:22;Y:30;B8

30

ATC

Tool magazine capacity

PCS

24

24

Tool change method

 

Arm type

Max. Tool size

Full tool

mm

F110×300

Adjacent without tool

F200×300

Tool weight

kg

18

Tool change time

S

4.75

 

Others

Air pressure

kgf/cm2

4~6

Hydraulic system pressure

kgf/cm2

65

Lubricant tank capacity

L

1.8

Hydraulic oil tank capacity

L

60

Cooling box capacity

L

Standard:160

Cooling pump flow/head

l/min,m

Standard : 20L/min,13m

Total electrical capacity

kVA

40

65

Machine weight

kg

12000

14000

 

CNC system

 

Mistubishi M80B
The machine is mainly composed of base, column, sliding saddle, indexing table, exchange table, headstock, cooling, lubrication, hydraulic system, fully enclosed protective cover and numerical control system. The tool magazine can be equipped with disc or chain type.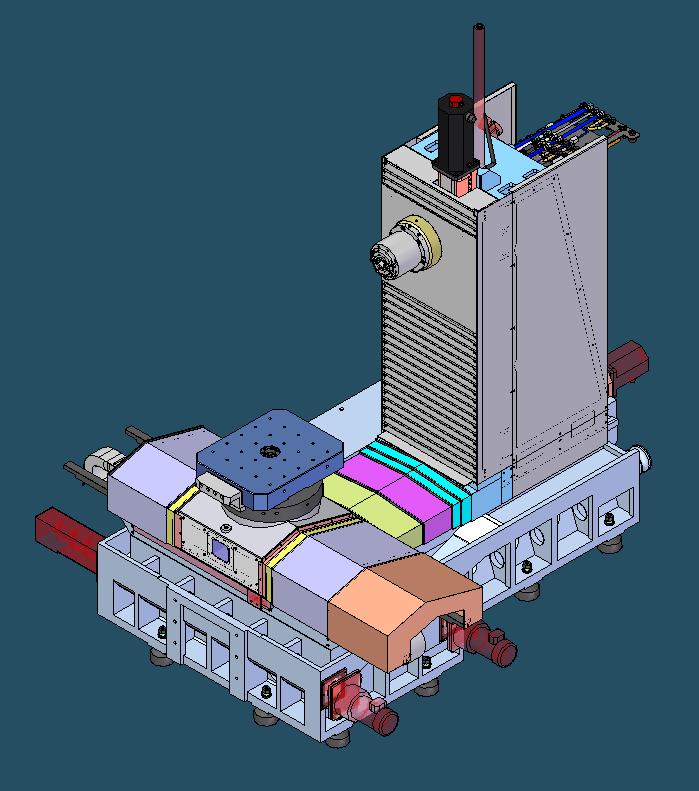 In order to improve the anti-vibration performance, the bed of the horizontal machine is proposed to adopt the inverted T-shaped layout with the best vibration resistance in the world, with a box-shaped closed structure, and the front and rear beds are integrated. The bed is equipped with two linear rolling guide installation reference planes for the movement of the worktable and the column. Considering the convenience of chip removal and the collection of coolant, it is planned to set up chip flutes on both sides of the bed.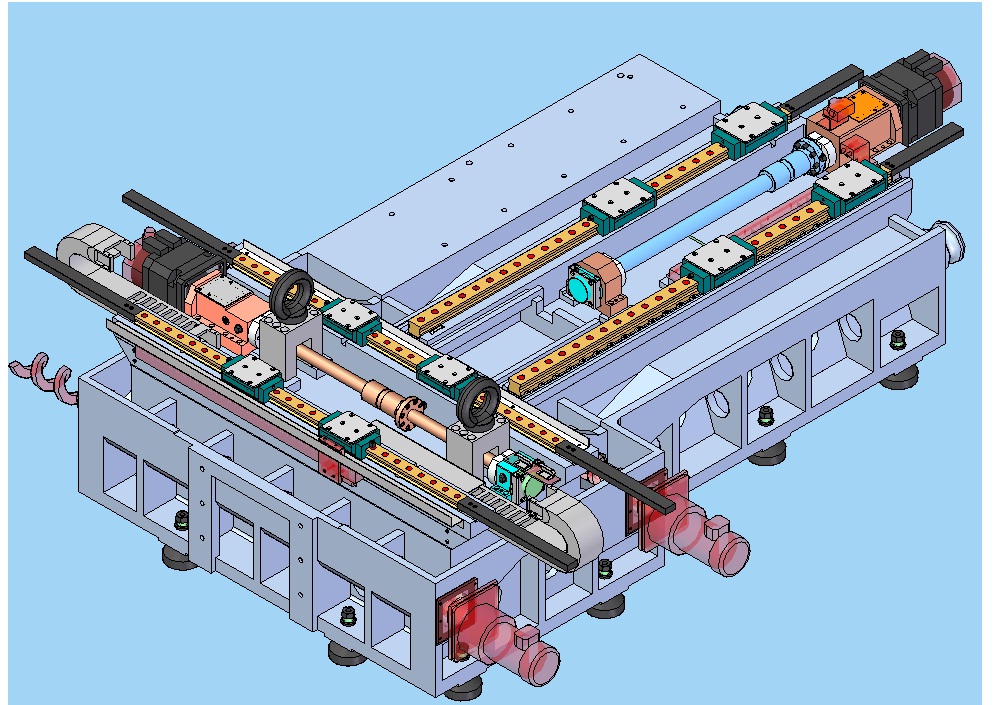 The vertical column of the horizontal machine is planned to adopt a double-column closed symmetrical frame structure, with longitudinal and transverse annular ribs arranged in the cavity. On both sides of the column, there are joint surfaces for the installation of the linear rolling guide for the movement of the headstock (the installation reference surface of the linear guide). In the vertical direction (Y-direction) of the column, in addition to the guide rails for the headstock movement, there is also a ball screw and motor coupling seat between the two guide rails that drive the headstock to move up and down. High-speed stainless steel shields are considered on both sides of the column. The guide rails and lead screws are reliably and safely protected.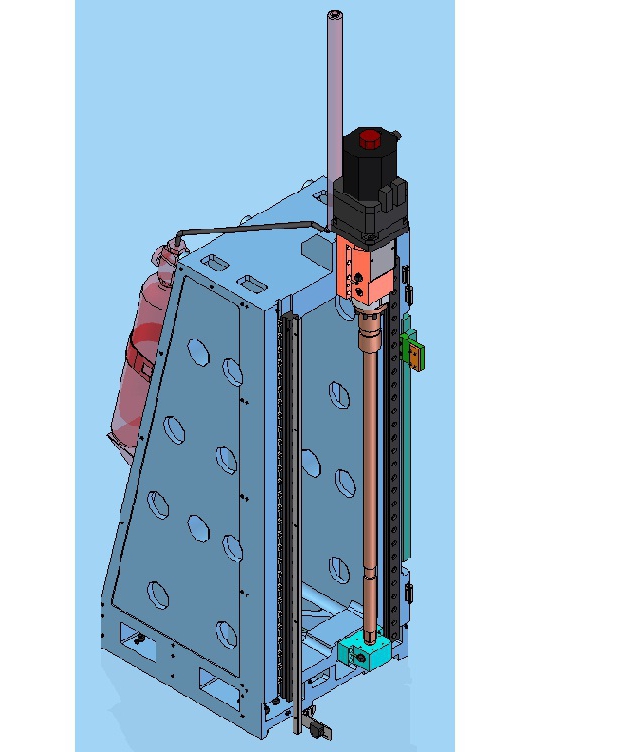 The worktable is accurately positioned and locked by servo, and the minimum indexing unit is 0.001°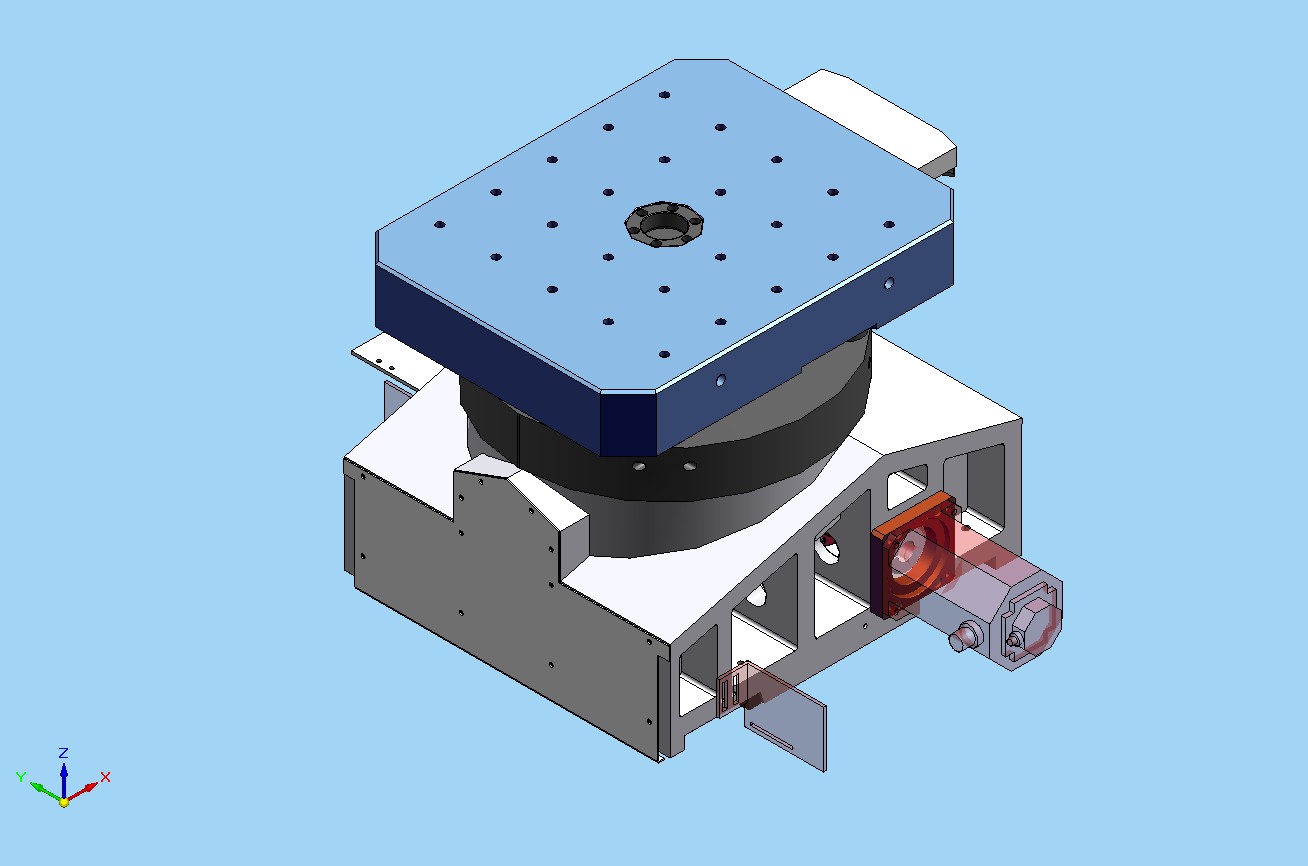 ---
Previous:
Center Drive Lathe For Axle
---
Send your message to us:
Write your message here and send it to us